Window Cabaret
Nothing to Steal. 1st-floor Brezhnevka. Moscow, Russia. 30.5.21



The COVID pandemic maintains an invisible, unshakable grasp on urban life. The residents of Moscow's 70s era apartment buildings have reacted to the lockdown by using their windows as more than 'openings'. The window has become a theatre, hosting displays of items; ambiguous, pastiched representations of our unseen neighbors.

How did we get here? How did a city of 11 million come to have 13,000 mass-produced apartment buildings with little access to the outside ("Skyline Ranking")?


Lace. 3rd/4th Floor Brezhnevka. Moscow, Russia. 30.5.21



In the 1950s, Nikita Khrushchev (then Premier of the Soviet Union) rejected "the overblown monumentality" associated with Stalinist architecture (Kulić 118). Rallying against all 'excess' in architecture, Khruschev aimed to solve the national housing crisis created by Stalin in "the most efficient way" possible (Kulić 118). The resulting 4 and 5 story mass-produced Khruschovkas ushered Soviet families into "modern living" (Byrnes; Kulić 117).


The Monolith. Brezhnev-era Apt. Moscow, Russia. 30.5.21



Improvements in construction technology in the 1960s and 70s saw the development of Brezhnevkis — more flexible mass-produced variations of the Khruschovkas (Byrnes). These 9 -12 story structures, usually no bigger than 60 square meters, make up the majority of Moscow's housing stock (Manaev); they are the offenders who offer little space to retreat outdoors, a devastating feature in the pandemic era.


Before Lights Out. 5th-floor Khrushchevka. Moscow, Russia. 30.5.21


Those apartments with outdoor balconies are stacked with stuff that didn't fit elsewhere. These concrete islands of misfit toys offer recluse to the occasional smoker among the bicycles, boxes, and broken toys stacked 3 deep and 10 high. Residents of first and second-floor apartments have no balconies at all; their windows outfitted with ornamental metal bars placed to keep intruders out — but which are more effective at keeping people in.

No one desires to stare through bars, no matter how ornate. And so, there is no incentive for inhabitants to linger from the inside. No daydreamers or children appear in their windows; there are no people-watchers.


Fish scale grill. 1st-floor Khrushchevka. Moscow, Russia. 30.5.21



What manifests in place of the shunted-indoors human element is a series of modern props — unpremeditated placeholders of their owners.


Hemingway's Boot. 1st-floor Khrushchevka. Moscow, Russia. 30.5.21



We come to know our neighbors by the objects they leave in their windows. Over time, the enigma of the lonesome winter boot, the crack in the window unravels as the objects compound, converse, and a narrative is constructed.


Crack and Wire. 1st-floor Khrushchevka. Moscow, Russia. 30.5.21


The window is the only public-facing display in a world on lockdown. No longer can it be understood as a simple perforation of the architectural container; it is the ultimate physical and metaphorical barrier separating public from private and the performative from the personal.


Espresso and Tree. 1st-floor Khrushchevka. Moscow, Russia. 30.5.21



The window has become a vitrine for the display and consumption of the hobbies and interests of unseen, private actors. Tickets to The Private Lives of the Densely Living are not box-office hits. But it is an entropic show. Indie enough. Unfiltered. Inadvertent. Melancholic. Comfortably nosy.


Stage. 1st-floor Khrushchevka. Moscow, Russia. 30.5.21



This is not a one-act or a monologue. This is a social improvisation, a cabaret, whose daily ending begins the next day's show. There is always a next day: The lights dim. The stage is set. Lace curtains await their cues.

Dusty refractions will spotlight an intriguingly ramshackle cast of characters: Doll leg. Convenience-Store bag. Alphabet cards.


Children's World. 1st-floor Khrushchevka. Moscow, Russia. 30.5.21



Yes, and? The show must go on.

Yes, and? Memento mori.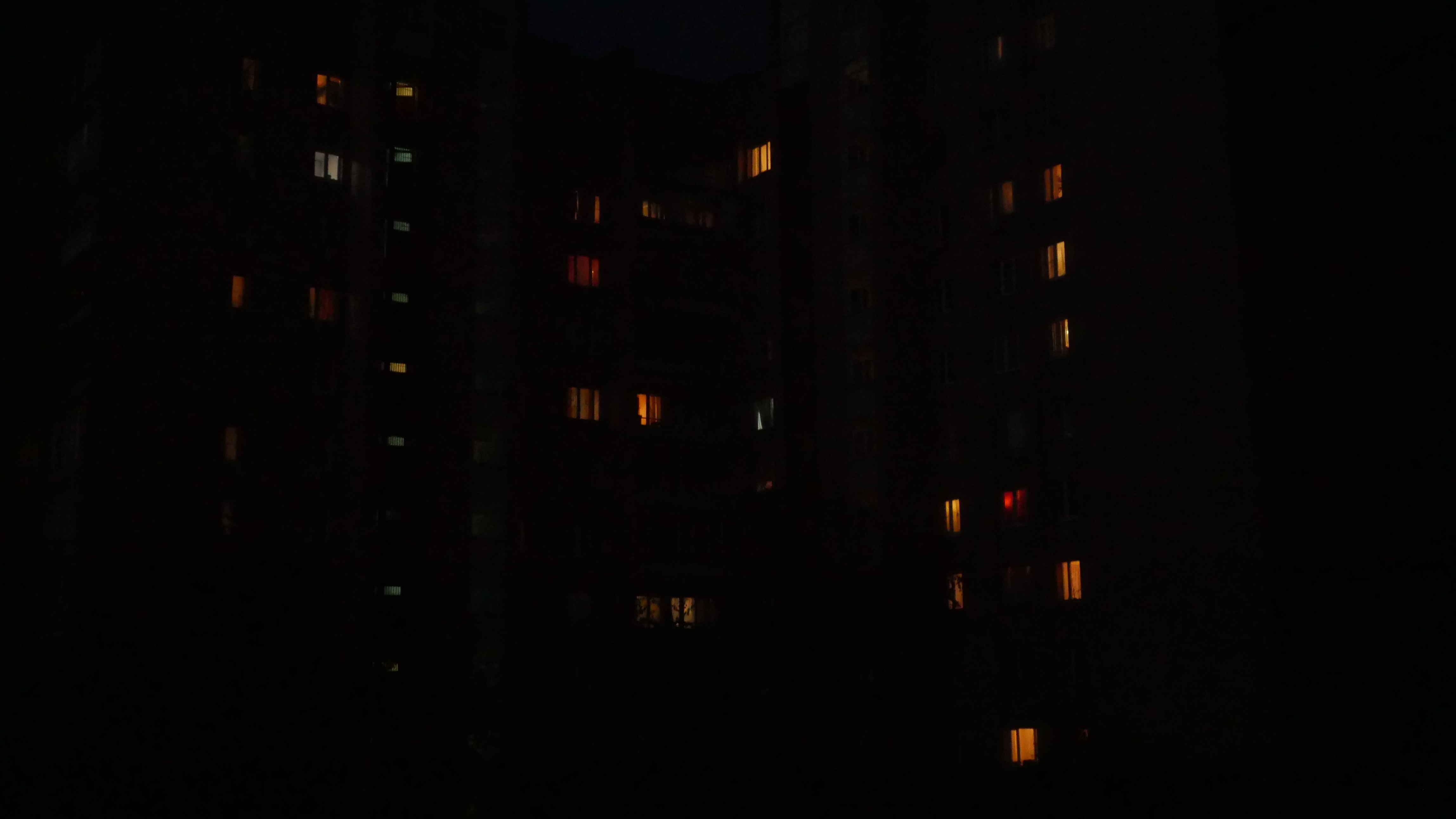 The Monolith at Night. Brezhnev-era apt. Moscow, Russia. 30.5.21

Sources:
Byrnes, Mark. "The Disappearing Mass Housing of the Soviet Union." Bloomberg.com, 8 Mar. 2017, www.bloomberg.com/news/articles/2017-03-08/the-disappearing-mass-housing-of-the-soviet-union.

Kulić, Vladimir. "Review: Towards a Typology of Soviet Mass Housing: Prefabrication in the USSR 1955–1991, by Philipp Meuser and Dimitrij Zadorin." Journal of the Society of Architectural Historians, vol. 76, no. 1, 2017, pp. 117–119., doi:10.1525/jsah.2017.76.1.117.

Manaev, Georgy. "What Does the Typical Russian Home Look like?" Russia Beyond, 27 Aug. 2018, www.rbth.com/lifestyle/329033-what-does-typical-russian-home-like.

"Skyline Ranking." EMPORIS, www.emporis.com/statistics/skyline-ranking.